According to James, "I take Kanhai as the high peak of West Indian cricketing development. West Indian cricketing had reached such a stage, that a fine cricketer could be adventuresome, and Kanhai was adventuresome…People felt that it was more than a mere description of how he batted; it was something characteristic of us as cricketers. They felt that it was not only a cricketing question, because Kanhai was an East Indian, and East Indians were still somewhat looked down upon by other people in the Caribbean. But I stated that here was a cricketer who was doing things that nobody else was doing, and I was very pleased when he became the captain of the West Indies side."
]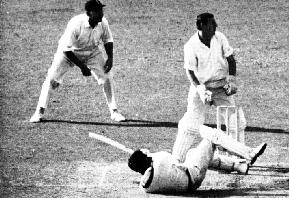 Writing critically about West Indian cricket and cricketers, or any cricket for that matter, is a difficult discipline. The investigation, the analysis, even the casual historical or sociological gossip about and great cricketer should deal with actual cricket, the way he bats or bowls or fields, does all or any of these. You may wander far from where you started, but unless you have your eyes constantly on the ball, in fact never take your eyes off it, you are soon not writing about cricket, but yourself (or other people) and psychological or literary responses to the game. This can be and has been done quite brilliantly, adding a little something to literature but practically nothing to cricket, as little as the story of Jack and the Beanstalk (a great tale) adds to our knowledge of agriculture. This is particularly relevant to the West Indies.

A great West Indies cricketer in his play should embody some essence of that crowded vagueness which passes for the history of the West Indies. If, like Kanhai, he is one of the most remarkable and individual of contemporary batsmen, then that should not make him less but more West Indian. You see what you are looking for, and in Kanhai's batting what I have found is a unique pointer of the West Indian quest for identity, for ways of expressing our potential bursting at every seam. So now I hope we understand each other. Eyes on the ball.

The first historical innings (I prefer to call them historical now) by Kanhai was less than 50, for British Guiana against the Australians of 1956. Kanhai had nor yet made the West Indies team. He played well but what was remarkable about the innings was not only its promise but that he was the junior in a partnership with Clyde Walcott as senior.

Kanhai played effective innings, which resulted in his being selected for the 1957 West Indies tour in England. I am not making a chronicle. I remember, however, the batting that he showed in all Tests in England. West Indies was scrambling for openers and much of the responsibility was thrown to Kanhai. He bore it without disgrace, with spasms of alternate toughness and brilliance which only later we were to learn were fundamental constituents in his character.





Yet the innings in 1957 that future events caused me to remember most strongly was his last ten innings at the Oval. He faced Trueman and immediately hit him for two uninhabited fours. Gone was the restrain that held him prisoner during all of the previous innings against England.

Kanhai, I know now, had made up his mind to have a final fling at the English bowlers. But either he wasn't yet good enough to play such cricket in a Test or he had not shaken off the effects of months of restrain. He was out almost at once…The next innings that helped to build the Kanhai personality was played as far away as Australia. It was an innings of over two hundred made in one day. Kanhai simply went to the Melbourne wicket and from the first ball hit the Victorian bowlers all over the place until he was tired at the end of the day.

In Australia, Frank Worrell made West Indians and the world aware of what West Indians were capable of when their talents had full play. That is Worrell's gift to the West Indian personality…Knahai continued to play that way all through the season. When he made a century in each innings against Australia, he was within an ace of making the second century in even time. Hunte being run out in an effort to help Kanhai towards the century, Kanhai was so upset that it was long minutes before he could make the necessary runs.

Kanhai continued to score, in the West Indies, in India, in Pakistan, but the next great landmark of his career was his innings against England at the Oval in 1963…at the Oval, with the fat of the match depending to a substantial degree on his batting (Sobers ran himself out) in this his last test Innings in England, Kanhai set off to do to the English what he had done to the Australians.

Perhaps I should have seen its national significance, its relation to our quest for national identity. Here was a West Indians provng to himself that there was one field in which the West Indian not only was second to none, but was the creator of its own destiny. However, swept away by the brilliance and its dramatic circumstances, I floated with the stream.

1964 was a great year…all through 1964 I sat in press boxes, most often between Sir Learie Constantine and Sir Frank Worrell. We were reporting England against Australia; there was a lot of talking about cricket and naturally about awest Indian cricketers. About Kanhai, for quite a while the only thing notable said was by Worrell. He made a comparison between Kanhai and Everton Weekes as batsmen who would stand back and lash the length ball away on the off-side or to the on-boundary. Then at Leeds, Kanhai himself turned up and came and sat in the press box. Learie had a long look at him and then turned to me and said, "There is Kanhai. You know at times he goes crazy."

I knew that Learie had something in mind.I waited and before long I learnt what it was. I shall try as far as I can to put it in his own words. "Some batsmen play brilliantly sometimes and at ordinary times they go ahead as usual. That one," nodding at Kanhai, " is different from all of them. On certain days, before he goes into the wicket, he makes up his mind to let them have it. And once he is that way nothing on earth can stop him. Some of his colleagues in the pavilion who have played with him for years have seen strokes that they have never seen before: from him or anybody else. He carries on that way for 60 or 70 or 100 and then he comes back with a great innings behind him."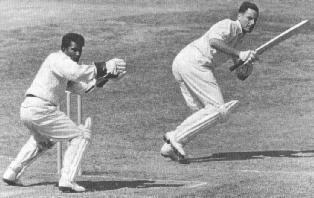 That was illuminating indeed, coming from someone who knew all about batting which aimed at hitting bowlers all over the place. It was obvious that at times, Kanhai's audacity at the wicket had earned not the usual perfunctory admiration but the deep and indeed awesome respect of Constantine. We were both thinking of the 1963 innings at the Oval. He had hit the English bowlers all over the place, he gave no chance and never looked like getting out. Yet I knew that Learie was aware of something in Kanhai's batting that had escaped me. At off times I wondered what it might be.
Going crazy. That could be Greek Dionysius, the satiric passion for the expression of the natural man, bursting through the acquired restraints of disciplined necessity. I played with the idea for a while. Tentatively. I settled for the West Indian proving to himself that henceforth he would follow no established pattern but would create his own.
Certainty came in the 1964 season. Sir Frank Worrell led a team of west Indian players against England eleven at Scarborough and Edgbaston (a third game a Lord's was rained out). Kanhai made a century in each, and what I saw, no one has written about: nor have I met anyone who appears to have noticed it.
At Scarborough, Kanhai was testing out something new. Anyone could see that he was trying to sweep anything near the leg stump round to fine-leg to beat both deep square and long-leg. He missed the ball more than he connected. That was easy enough. But I distinctly remember being vaguely aware that he was feeling his way to something. I attributed it to the fact that he was playing league cricket all season and this was his first first-class match. Afterwards, I was to recall his careful defense of immaculate length balls from Trevor Bailey, and, without any warning or fuss, not even a notable follow-through, he took on the rise and lifted it ten feet over mid-on's head to beat wide long-on to the boundary; he never budged from his crease, he barely swung at the ball. Yet, as far as he was concerned, it was four predestined.
We went to Edgbaston. Bailey's side had six bowlers who had bowled for England that season. If the wicket was not unresponsive to spin, and the atmosphere not unresponsive to swing, the rise of the ball from the pitch was fairly regular. Kanhai began by giving notice that he expected test bowlers to bowl at length; balls a trifle loose so rapidly and unerringly paid the full penalty that by the time he had made 30 or 40 everyone was on his best behaviour.
Kanhai did not go crazy. Exactly the reverse. He discovered, created a new dimension in batting. The only name I can give to it is "cat-and-mouse." The bowler would bowl a length ball. Kanhai would play a defensive stroke, preferably off the front foot, pushing the ball for one, quite often for two on the on-side—a most difficult stroke on an uncertain pitch, demanding precious footwork and clockwork timing. The bowler, after seeing his best lengths, exploited in this manner, would shift, whereupon he was unfailingly dispatched to the boundary. After a time it began to look as if the whole sequence had been pre-arranged for the benefit of the spectators. Kanhai did not confine himself too rigidly to this pre-established harmony.
One bowler, to escape the remorseless billiard-like pushes, brought the ball untimely up. Kanhai hit him for six to the long-on off the front foot. The bowler shortened a bit. Kanhai in the same over hit him for six in the same place, off the back foot this time. Dexter, who made a brilliant, in fact, dazzling century in the traditional style, hit a ball out of the ground over the wide mid-on. Kanhai hit one out of the ground some 40 yards further on that Dexter. He made over 170 in about three hours.
Next day, Brian Johnson in the Daily Mail, Crawford White in the Daily Express, John Woodcock in The Times—three men who have watched critically all the great players of the last thirty years—made no effort to contain themselves: they had never seen such batting. Here and there some showed that in their minds the Everest conquered by Bradman had been once again scaled.
They were wrong. Kanhai had found his way into regions Bradman never knew. It was not only the technical skill and strategic generalship that made the innings the most noteworthy I have seen. There was more to it, to be seen as well as felt. Bradman was a ruthless executioner of bowlers. All through this demanding innings Kanhai grinned with a grin that could be seen a mile away.
Now to fit his cricket into the history of the West Indies. I saw all his batting against the Australians during their tour of the West Indies in 1965. Some fine play, but nothing in the same category at Edgbaston. At Melbourne in Australia, he had experienced a freedom in which his technique could explore roads historically charted, but to him unknown. He had to wait until the last test in England in 1963 to assure himself that his conquest of Australia was not an accident.
Now in 1964 at Scarborough and Edgbaston he was again free; to create not only "a house for Mr. Biswas," a house like other houses, but to sail the seas that opn out before the East Indians who no longer has to prove himself to anybody or to himself. It was no longer: anything you can do, I can do better. That had been left at Kennington Oval in 1963. Now it was fresh fields and pastures new, not tomorrow but today.
At that moment, Edgbaston in 1963, the West Indian could strike from his feet the dust of centuries. The match did not impose any burdensome weight of responsibility. He was free as few West Indians have been free.
Cricket is an art, a means of national expression. Voltaire says that no one is so boring as the man who insists on saying everything. I have said enough…But I believe I owe it to the many who did not see the Edgbaston innings to say what I thought it showed of the directions that, once freed, the West Indian might take. The West Indian in my view embody more sharply than elsewhere Nietzsche's conflict between the ebullience of Dionysius and the discipline of Apollo. Kanhai's going crazy might seem to be Dionysius in us breaking loose…maybe I saw only what I was looking for. Maybe.
---